Journey into the fascinating world of Australia's culture with this unique collection of 33 authentic, traditional Aboriginal stories from the Dreaming, along with Colour plates of Aboriginal paintings and chapters on the oldest living culture in the world.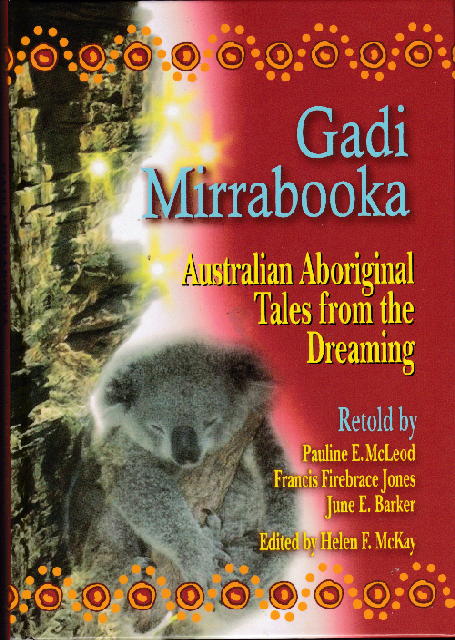 Each story brought to you by an Aboriginal storyteller custodian with permission from the Aboriginal elders. This is to help foster a better understanding of the history and culture of the Aboriginal people and Aboriginal stories of creation.
Australian Aboriginal story book, Gadi Mirrabooka. With 33 dreamtime stories retold by Pauline McLeod, June Barker, and Francis Firebrace to Helen McKay. Contains chapters on mythology, culture, legends. Contains illustrations including colour plates created by Francis Firebrace. Each book sold here will be autographed by Helen McKay.
Australian Aboriginal stories contain many life lessons useful in and out of school classrooms.
Gadi Mirrabooka, which means "below the Southern Cross," introduces wonderful tales from the Dreamtime, the mystical period of Australian Aboriginal beginning.
Through these 33 stories you can learn about customs and values, animal psychology, hunting and gathering skills, cultural norms, moral behavior, the spiritual belief system, survival skills, and food resources. Includes the famous Rainbow Serpent story and many others.

This story book is purchased by colleges, high schools, primary schools, pre-schools, teachers and students, cultural organisations and a prison, parents and grand-parents. This classic has been selling around Australia and the world since 2001.
Published in hard cover format in the World Folklore Series 2001, by Libraries Unlimited division of Heinemann. Pages: xviii, 135p. + 8p. Colour plates, Size: 7 x 10 inch, Cloth. ISBN 9781563089237 and 1563089238
Best of Aboriginal Story Books
---